Permeable Pavers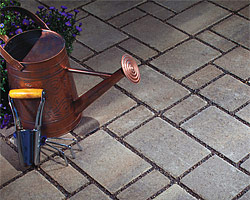 Permeable Interlocking Concrete Pavers (PICP) is a system of individual interlocking concrete pavers set on a base of angular stone of varying gradations. In this base area voids are created that allow a large volume of storm water to be stored either to slowly recharge directly into the ground or to slowly pipe out to additional Stormwater devices. PICPs by slowing down the discharge of storm water off your property become an integral part of a Best Management Practice. Additionally PICPs can reduce the amount of pollutants, sediments and fertilizers entering the streams, lakes and coastal estuaries that we all enjoy.

PICPs are ideal for reducing the impervious coverage area of your lot. Impervious coverage generally refers to areas covered with structures that don't allow storm water to recharge into the water table creating runoff. Your house, driveway, pool, deck and patio are all considered impervious. Using a permeable paver system for your driveway, parking areas and walkways allows you to reduce impervious coverage while still allowing the use of that area as designed. If you live in Spring Lake, Sea Girt, Manasquan, Point Pleasant, Lavallette or any of the other shore towns' lot coverage is probably 50% or less. In towns like Colts Neck, Howell, Marlboro, Jackson, Brick or any of the others in Monmouth/Ocean with large lot sizes impervious coverage is even lower. Your house, driveway and outdoor living spaces can easily consume your impervious coverage limit. Converting your driveway to a PICP system reduces impervious coverage allowing additions to your house or even adding a pool.

In commercial settings PICPs are ideal for parking lots and most low traffic areas. Again PICPs will reduce the impervious coverage and the amount of storm water that runs off. In the busy corridors of Rt 9, Rt 35, Rt 36, Rt 88 and Rt 70 there are acres of parking spaces that can be converted to PICPs reducing storm water runoff. By reducing this runoff the amount of sediments, pollutants and fertilizers that reach our streams, rivers and bays will also be reduced. In addition to these large commercial lots are small lots that now are at 100% impervious coverage all the rainwater that lands on these is immediately discharged into the downstream environment. Incorporating PICPs into these environments can only help to improve our local quality of streams, rivers and bays.

If you want to renovate, upgrade or change the use of your property incorporate PICPs into your plan from the beginning. You might avoid a costly and time consuming variance process for lot coverage / Stormwater. Green infrastructure can also be used as a selling point and contribute to LEED certification. PICPs have been in use in North America since the 1990's so this isn't unproven technology. Plenty of additional information on the effectiveness of PICPs is available. Here are some links:


Take a minute to request a free consultation/quotation via easy online form or simply call. We will be happy to share our knowledge of PICPs and Stormwater. Together we can have the satisfaction of building a greener more sustainable infrastructure resulting in the preservation of our rivers, lakes and bays for our generation and future generations.